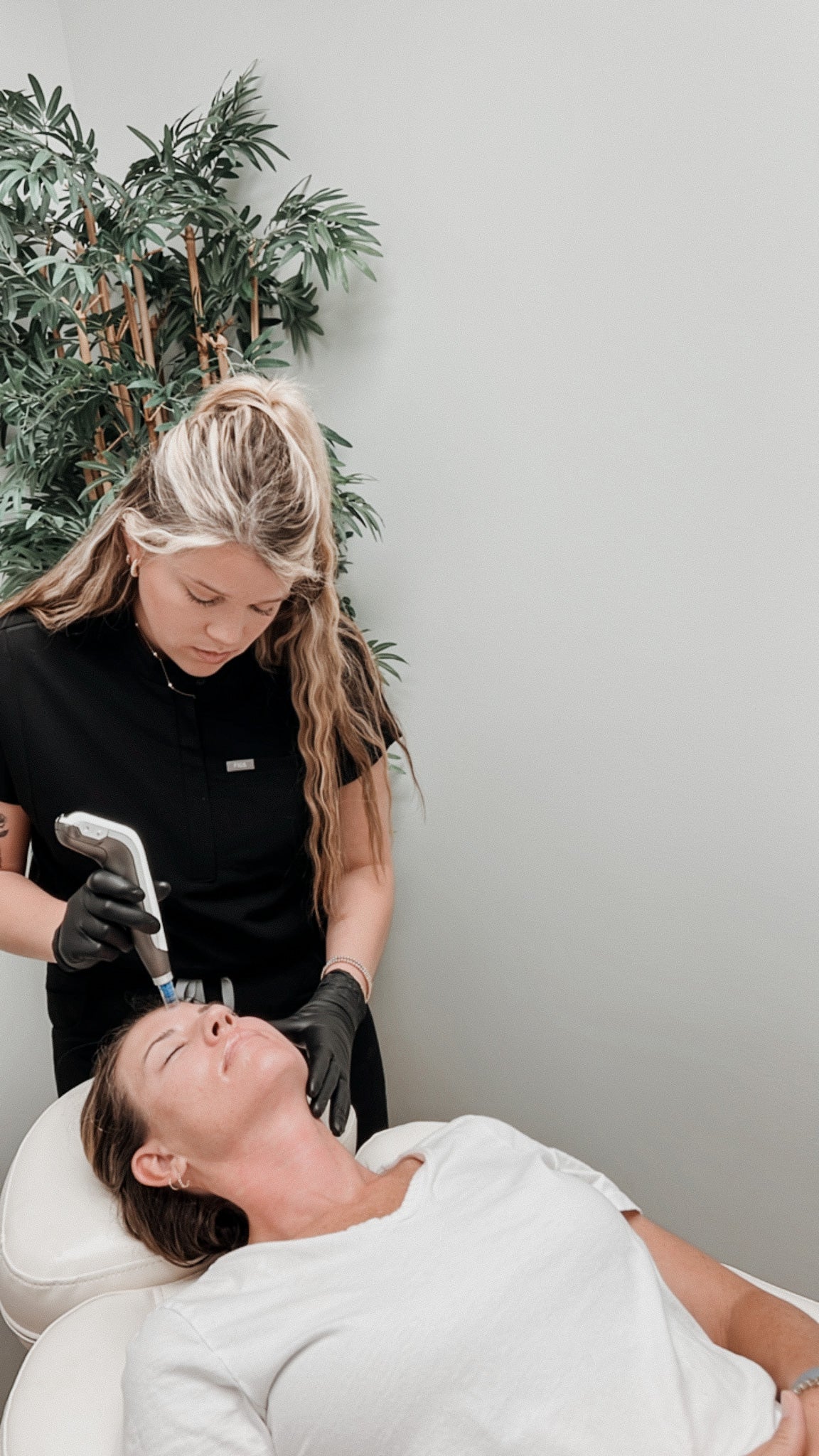 COLLAGEN INDUCTION THERAPY (MIRCONEEDLING)
At Solé Med Spa we have a revolutionary approach to microneedling. All microneedling sessions include a custom infusion that is blended based on skin care concerns prior to beginning the procedure. This allows every session to be completely unique to our individual clients' skin care concerns. This custom infusion is then applied to the skin and infused with an FDA-cleared advanced microneedling device. A superficial chemical peel is then applied to the treated areas.  An after-care kit that includes a soothing mask can be added to the treatment and used at home. We suggest a series of treatments for optimum results.
BOOK AN APPOINTMENT
COLLAGEN INDUCTION THERAPY FAQs
What does collagen induction therapy (microneedling) treat?

Collagen induction therapy has been proven to treat fine lines and wrinkles, scars, reduce pore size, smooth rough textures, even skin tone and minor sun damage.
Will the procedure hurt?

Our custom blend of numbing cream will ensure that you will feel minimal discomfort during the procedure. A common phrase we hear from our clients is "I hardly felt any discomfort at all!" This numbing is applied 15 minutes before your appointment.
What skin types can be treated with collagen induction therapy?

All skin types can be treated with our custom and unique approach. If you have very sensitive skin, our trained estheticians have specific protocols to ensure that you have optimum results. For rosacea clients, we do recommend seeing one of our Board-Certified Dermatologists that can create a treatment plan that may be combined with collagen induction therapy.
What can I expect after a treatment?

Facial redness and minor irritation can be experienced for 12-48 hours after the procedure. Most clients may return to normal daily activities within a few hours after the treatment. A "camouflage" product may be applied immediately after the treatment for those needing to return to work right after treatment. It is recommended to refrain from exercise for 24 hours post microneedling.
How does the device work?

Our device generates millions of fine, vertical micro channels over 100% faster than other devices. This allows for a quicker appointment, less down-time, quicker recovery and less discomfort than previously designed devices.
What makes Solé Skin Therapy's Collagen Induction Therapy so different?

With every collagen induction therapy treatment, our licensed estheticians will create a custom infusion and apply it to the face and neck area. A mild exfoliating peel is applied after the treatment to give the skin an instant glow. Additional areas can be added during treatment at a discounted rate.
What if I had collagen induction therapy but am ready for something more corrective?

Some skin types may be able to handle the application of a solution that can drastically exfoliate the skin and smooth the barrier. Ask your licensed esthetician during your session if you are a candidate.